Hidehiko Hinohara
composer-pianist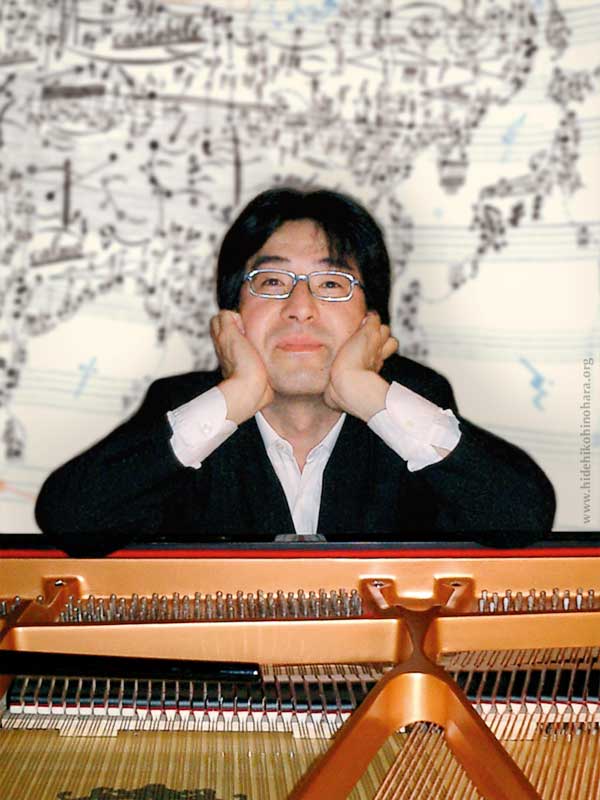 HIDEHIKO HINOHARA was born at Kumamoto (Japan) and took a degree in Music with a major in Composition from the Tokyo State University of Fine Arts and Music. Having obtained a scholarship from the italian government he moved to Florence where he attended specialization courses in Composition held by Sylvano Bussotti, Giacomo Manzoni and Camillo Togni at the Fiesole Music School.
He made his debut at the 1991 Venice Biennale with La vecchia del sonno, a composition for soprano and eight instruments (poems by Aldo Palazzeschi). He won the first prize in the PREMIO VALENTINO BUCCHI, an international competition for music composition held in Rome (1993), with his piece all'alba fragrante... for contrabass, and the first prize at the International Composition Competition "Traiettorie Sonore" held at Como (1995).
In the meantime Hinohara had begun his career as a pianist - he has dedicated himself particularly to chamber music and to contemporary repertory. In 2000 he was the Principal Piano in the world premier of the opera Tieste by Sylvano Bussotti (director: Arturo Tamayo) and he composed original music for the theater piece Opus Florentinum by the famous italian poet Mario Luzi, which was represented at the DUOMO of Florence for the Jubilee.
In 2007, he took part in the first ever representation of the chamber opera Silvano Sylvano by S. Bussotti (Accademia di Santa Cecilia, Rome) and presented at Fetival d'Avignon two new compositions: Morcelée based on poemes by René Char and the oratorio Enkidu
He coordinate the elastiko group which promote every artistic activities over the genre and organize a festival and workshops of contemporary music.
Hinohara's compositions list include: Commos for voice, violin and pianoforte (1997); D'acque il romor ch'avvolge... for fourteen instruments (1997) Stasimi for three voices and three clarinets (1997); The logic of the spanner for piano (2003); Sinuosa la luna increspava 'l mare for shô, koto and recorder (2005); Nue: ridda spirale for bass flute, bass clarinets and metal percussion (2009).